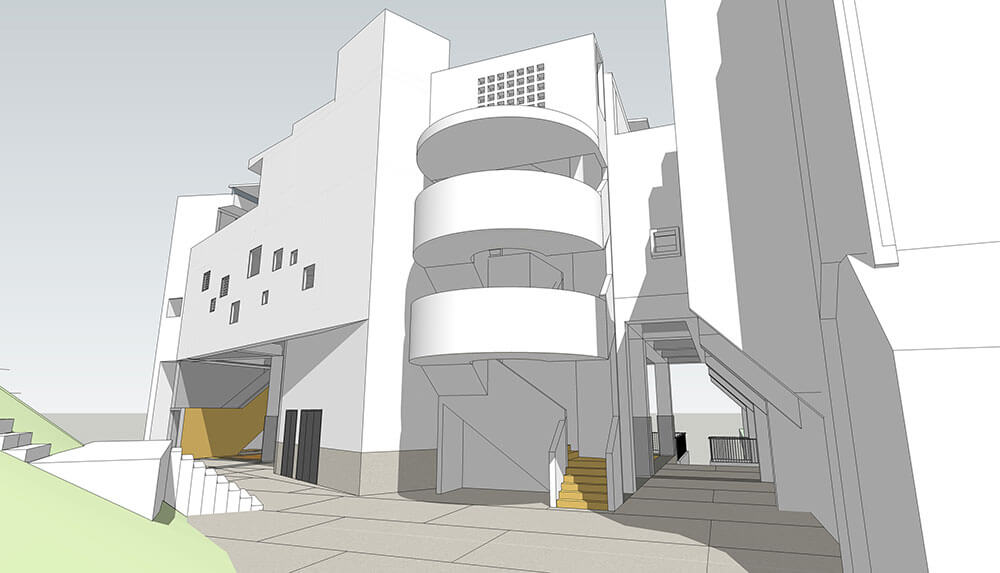 The existing University Sports Centre has been serving the Chinese University of Hong Kong since its completion in 1982. It is a long-span rectangular concrete box characterized by the round-edged buttress columns that appear in pairs on the facades, and the huge cantilever canopy over the spectator stand that recalls the brutal and modernist expression. The Sports Centre provides an indoor venue for ball games such as basketball, volley and badminton. However, the fitness room is located in a temporary shelter called Nissen Hut which is distant from the Sports Centre. The condition is unsatisfactory in terms of poor ventilation, high humidity and fluctuation of temperature due to the poor insulation of the thin metallic building envelope. This extension project aims to provide an additional floor area of approximately 1000 sqm to the north of the existing Sports Centre to accommodate the Fitness Centre, and to provide a covered area for physical training with supporting facilities.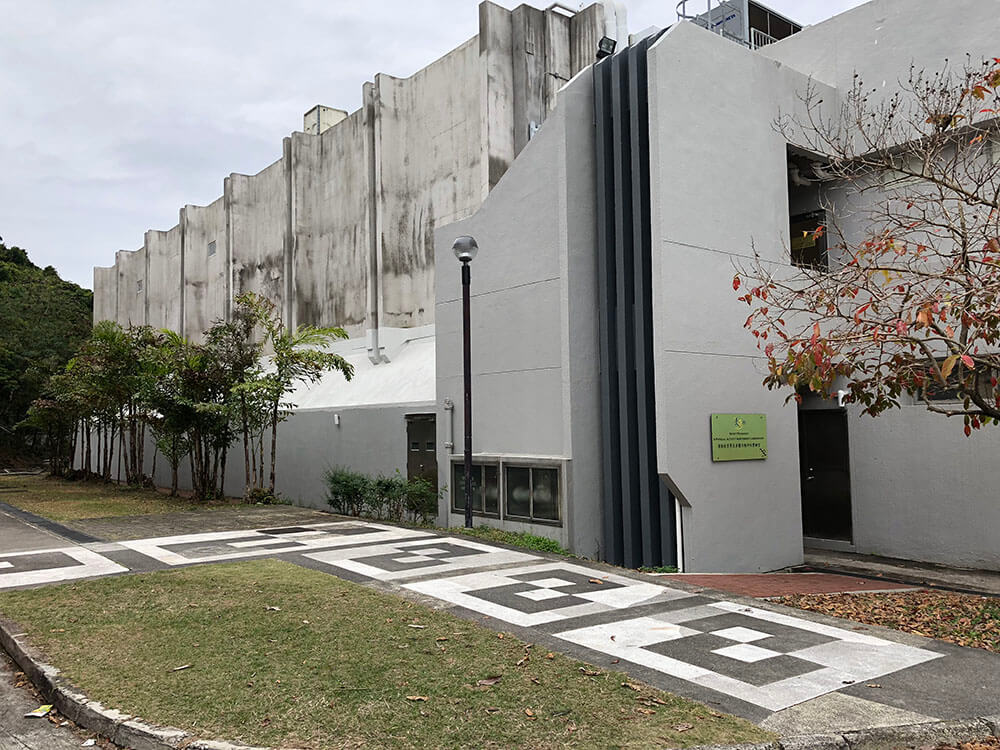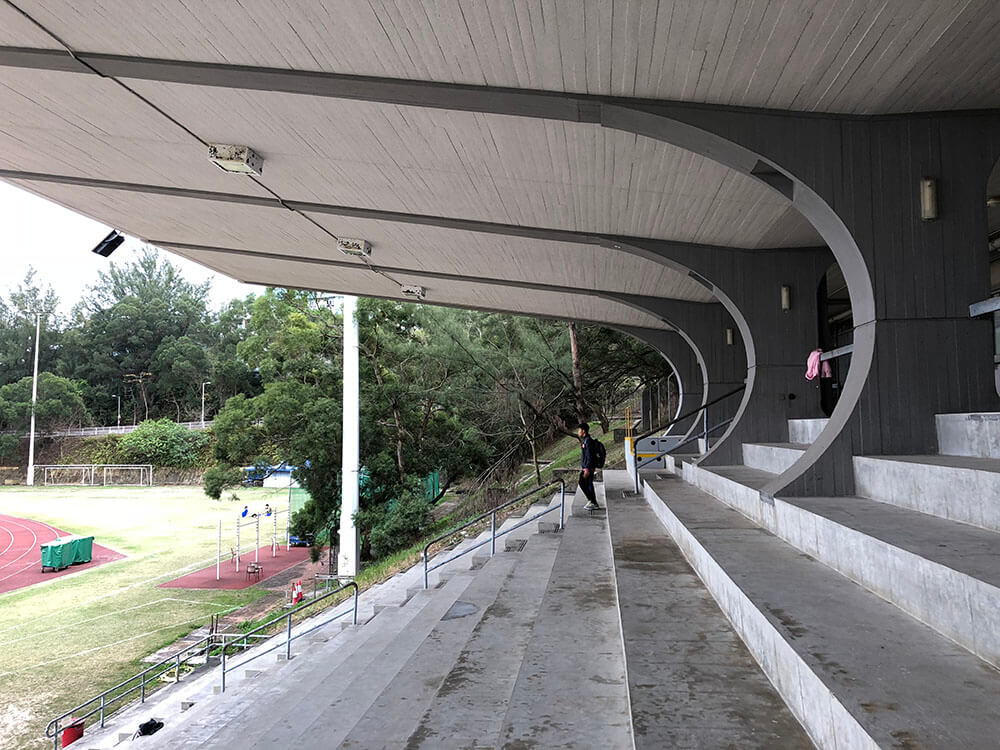 The site area is small (approx.400 sqm only) and is trapezoidal in shape. It abuts on an existing retaining structure to the east side, and on a natural slope to the west. Currently the site is fenced off with chain link fence for occasional climbing wall training.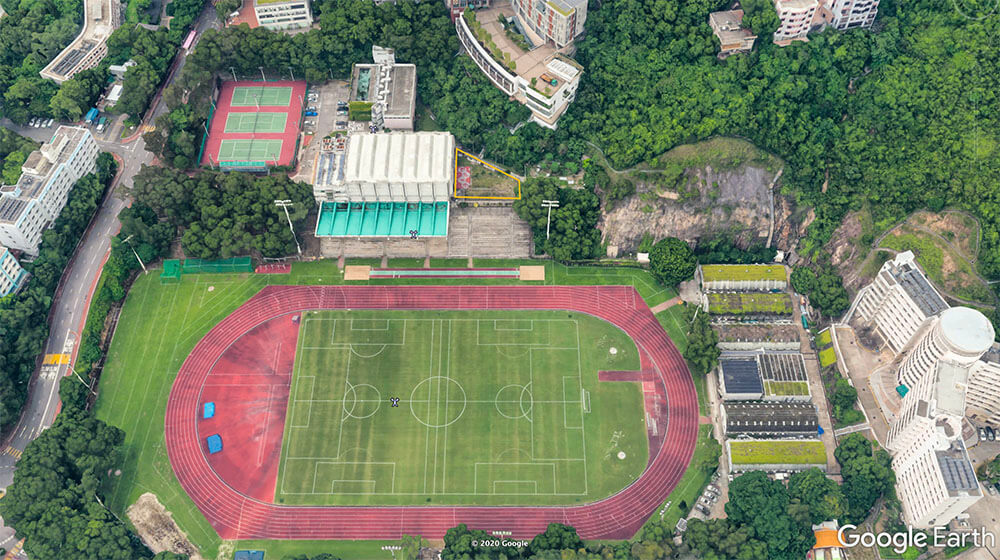 The function of the new extension is simple but the site condition is rather challenging. Site survey reveals that there exists an underground drainage pipe running beneath the site so that drainage diversion works are required before any site formation or foundation works. The access to the site is restrained by a narrow passage, and by the significant level difference due to the spectator stand. The existing palm trees inside the site have to be fell to make room for the new construction. Compensatory trees in compliance with the relevant laws provide an opportunity to redesign the landscape of the approaching route along the rear slope toe.
The design of the new extension takes the shape of the site, and by arranging the main circulation elements including the lift tower, staircase, lobbies, small classroom, and supporting mechanical and electrical rooms to the west triangular space, the major functions including the gym hall at 1/F and the covered playground at G/F remain rectangular and column free, perfect for the purpose of fitness training. Another staircase near the north end, besides its statutory fire escape function, connects people going up from the sports field via the spectator stand. Given the complexity of the project, the construction cost is controlled at only HK$35M.
---